It's the day I look forward to the most: the first day the sun hits the garden with a degree of warmth and I'm enticed enough to don gloves, find secateurs and a trug, and head out there to make the first cut of Spring.
The moment is fleeting: the sun only graces our shared courtyard garden in Bristol for a few morning hours between the high walls of the surrounding Georgian buildings of Clifton but it's never a case of "where do I start". I've been gazing longingly out of the window for weeks now so it's all about a quick and efficient snip, chop, tidy and sweep before I retreat back into the warmth.
We currently live in a rented house with a private courtyard garden that only really sees the sun in the summer months, but we benefit from a communal area that is basically a central lawn surrounded by a paved path which our three children spend many happy hours circumnavigating on various bikes, scooters and skateboards.
Having moved here from Cornwall nearly two years ago, we brought with us a garden in pots and they've brightened up two empty rental gardens thus far. I like to think of them as my sleeping beauties, awaiting their prince of a garden where they'll be lovingly planted in their new home… Yes I'm a dreamer!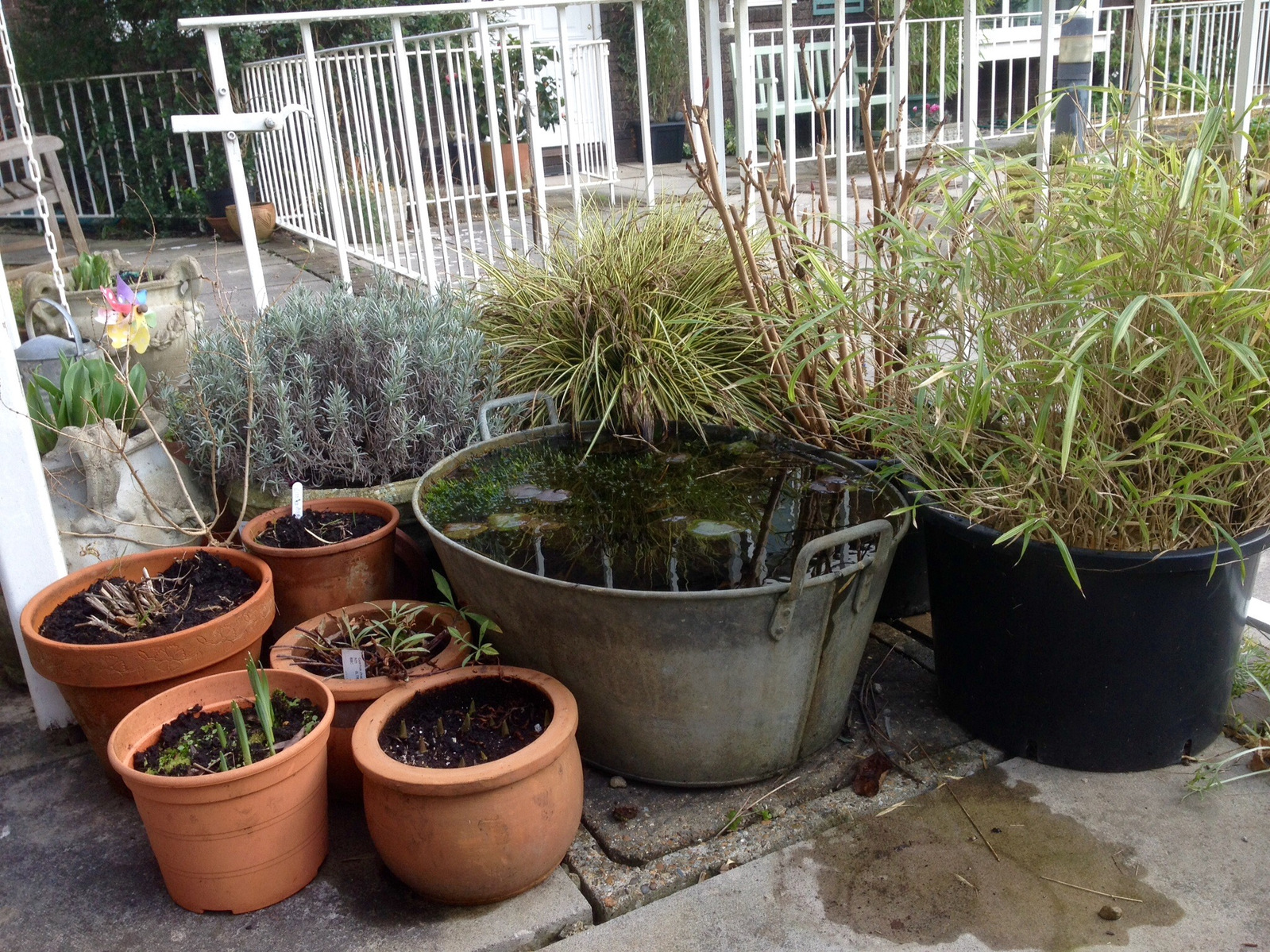 One of the first jobs I do is to chop back dead growth from all the pots. I love finding the new shoots poking through as I do this.
Ours is probably a typical family garden in that it needed to house some play equipment. We found this twin wooden swing which our kids have loved. The back of the courtyard catches the most of the rare sun so we have a pair of sun loungers and table and chairs for al fresco summer lunches.
Next I prune back any larger shrubs, thinking about how much they will grow in a season. This is especially important in a small garden as you need as much space as you can get, and keeping pathways free of overhanging branches makes life much less of a battle!

The best thing I did when moving to our current garden was to plant my favourite grass Anemanthele Lessoniana in a small side border. This sits directly opposite the patio doors and we look out to this space from our living room. Being an evergreen we've enjoyed watching it change colour, blow in the wind, shine in the sun and froth with pink flower heads, before turning tawny with seeds and then quickly swished away before dispersing them at will…It's a plant for all seasons and one that goes with everywhere with me.
So, tidy up complete I can relax and watch it all burst into life over the next few weeks.